Danish photographer Neils Hansen shoots the RealitySoSubtle 6x6F (central pinhole and filter attachement) and 35P (35mm Panoramic).
(click images for larger view)
I have been an art photographer for around 35 year and have exhibited my work around the world.I started
with pinhole 4 years ago,and was hooked at once,the way the pinhole rendered the light was amazing!
It was often dreamy, surreal and not seldom spooky as well!
I started out with an Agfa isola I hacked, but after 3 months I bought a RSS 6x6F and that has been my main camera during the first years, it is lightweight and makes wonderful images, thanks to the superb pinholes made by James.
I often rebuild old 6×6 and 35 mm cameras to pinholes and I often use the 0.2mm pinhole from RSS – they are sharp and make "controlled" light beams against the sun (many other pinholes looks like snowstorm against the
sun.
Like all other forms of photography it is important to work in the right light often morning and evening
are the best,people often ask : how do you get these fantastic clouds,well I get it by looking at the
weather forecast when I plan a photo trip. Is there sun, clouds and a bit of wind? Then there are a good
chance of decent clouds, I always use a yellow or orange filter to give more contrast in the sky.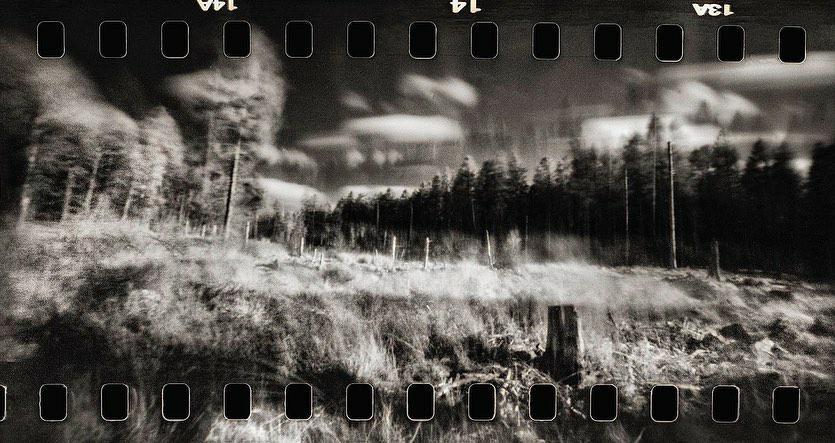 I like to make surreal images and pinhole is really great for that. I often make images against the sun to use the
light-beams as an element. In the images why not use it if you can control it? With the help of these simple
cameras I think I have made the best work of my photo life.
Last year film prices was very high because of the war in Ukraine, and I started to buy bulk 35mm film to keep expenses low. I converted some old rangefinder cameras to pinhole and I also bought a RSS 35p to make images that gives a panoramic image where you are using the film area with sprocket as well. This camera's images are nearly medium format quality thanks to that!
This summer I have also been working with paper negatives in a 4×5 camera and I have been able to make images look more pictorial and it has been nice to do proper darkroom work again. My process with film cameras – I develop the film, take an image of the negative with a DSLR in raw format – that gives in my opinion full control of tones and contrast in photoshop. I print with pigmented ink on cotton paper and I also make cyanotype prints of some of my pinhole images.
This year I have shown my work on photo festivals and juried exhibitions in USA,Poland,Ukaine,Japan and Argentina. In February I started a Facebook group called:pinhole photography light and form. We have now 1800 members and I
have been so lucky that James Murray, Vicent Sebastian, Yulia Belska and Miroslav Randomski have agreed
to be co Administrators that gives super global diversity to the group.

Facebook: niels Hansen
Facebook: groups
Instagram: @nielsphotoart